Vertical Carousel (Paternoster)
Automatic Storage Machines are computer-controlled storage and transfer systems that can significantly improve the efficiency of product storage and picking. These machines are easy to integrate with a Company's existing Warehouse Management System (WMS), but they can also be used as a standalone system. The site and operating environment determines the system's size and composition.
alternatively call
0113 270 4872
Paternoster's offer closed, safe storage and protect products from dust and light damage. Retrieval points can be set up on different floors and the faster product turnaround times offered by Paternosters mean that the warehouse picking operation can be reduced by as much as 60%.
The work environment is safe and ergonomic, as carriers are transported to the optimum working level.
A Paternoster carousel is the perfect system for storing many different types of goods. It offers rapid processing; the Paternoster will always takes the shortest route to the operator, as well as minimising the number of picking errors.
A patternoster can offer
Fit more goods into the same space. Saving up to 70% on floor space.
Picking time only 15 seconds/row.
Reduces picking errors by two thirds.
Ideal for batch picking.
Combines reliable technology with decades of experience in global deliveries.
Low maintenance requirements supported by a good maintenance network.
Provides a safe, ergonomic work environment.
Is easy to integrate with many WMS solutions.
Prevents unauthorised use. Reduces losses.
Offers a separate durable an secure frame.
A well-lit picking opening that can be closed and secured electronically. Optionally, multiple picking openings on more than one floor level.
Guarantees the safety of both users and goods with a safety light curtain and photoelectric cells above and below the picking opening.
A control equipped with a graphical display and an alphanumeric keyboard.
Carrier dimensions suitable for most standard picking trays.
Paternoster dimensions and statistics:
Carrier widths 2850 and 4100 mm
Carrier depths 420, 520 and 620 mm
Carrier capacity 600 kg max per carrier
Space between carriers: 201-493 mm
Total capacity: 15 600 kg maximum
Total widths: 3703 and 4953 mm
Total depth: 1836, 2036 and 2236 mm
Total height: 3040-14 890 mm
Electrical connection: 400 VAC
Motor output: 4 kW
Control system: PaC100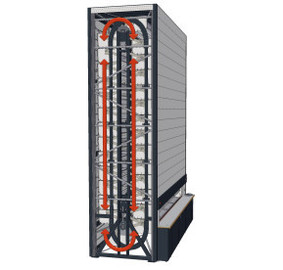 ORDERING
Details of all Dexion products and ancillary items are available through our website to help create your order easily. Existing account holders can create orders and be invoiced at their normal terms. Alternatively you can email, phone or fax your requirements through to be dealt with on a more direct basis.
Cannot see what you want? Contact us for help and advice.
NEED REPAIRS?
We carry stocks of Dexion pallet racking and shelving and can carry out repairs as quickly as you need them using genuine Dexion Products. Call us on 0113 270 4872 to arrange an urgent repair and we'll arrange a time that suits you.