Shelving Installations
From a simple single run to a full stores installation we can help, we keep commercial & industrial shelving in stock so can get you going quickly.
alternatively call
0113 270 4872
Our projects division can plan, manage and install your installation in house using the latest design and CAD systems. We offer a wide variety of racking installations for our customers, and boast an industry leading team of installers who have attained full NVQ and CITB qualifications respectively. All our work is completed to all relevant SEMA guidelines and EN standards leaving you safe in knowledge that your racking is safe and fit for purpose.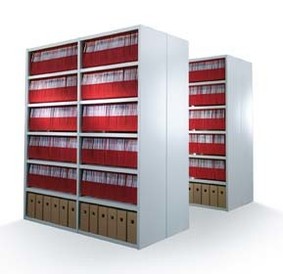 SYSCO COMMERCIAL SHELVING
Suitable for storage in offices, archives, stores and depositories.
Single sided shelving placed in the room or against a wall.
Double sided shelving placed in the room for access from both sides.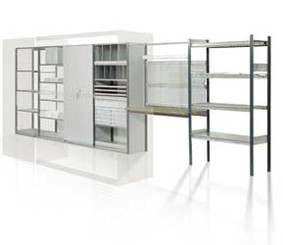 HI280 STANDARD INDUSTRIAL SHELVING
The design of our HI-280 shelving system uses a clever construction method. Its design is based on a minimum number of components; the basis of the system is uprights and shelves made from high grade pre-galvanized steel.
The variety of applications is endless, HI-280 can be built as a traditional shelving system or with additional accessories tailored to specific industries and applications for the storage of small parts and spares in hand loaded applications.
Suitable for stand alone and manually served picking and storage areas to large fully automated central stores, the HI-280 shelving system is the most flexible and versatile storage system for small part handling.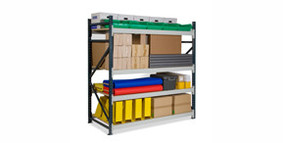 DEXION LONGSPAN SHELVING
For the storage off hand loaded items in bulk, archived or simple too long to fit in standard shelving.
Utilising either drop-in steel panels or shelving grade chipboard the system can be tailored to your loads and products.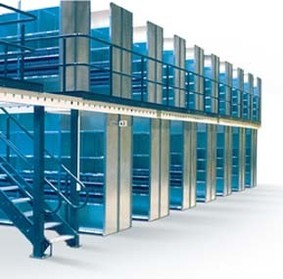 HI280 MULTI-TIER INDUSTRIAL SHELVING
Make maximum use of your headroom with a multi-tier installation.
Single tier with an over rack platform
Two tier
Three tier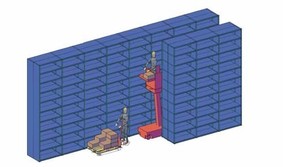 HI280 NARROW AISLE SHELVING
Narrow aisle shelving systems are mostly used in high volume warehouses normally with man-lifters. The main advantage of a narrow aisle storage installation is the optimization of storage space, this due to the fact that rail-running lifter require less manoeuvring space compared with traditional forklift handling.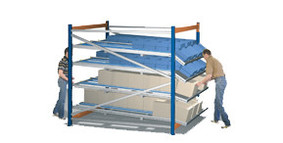 CARTON FLOW – PICKING SYSTEM
Dexion Carton flow is a vital part in the supply chain for components at assembly lines and conveyer belt lines. A picking station is constructed of a rack supplied with leaning roller tracks used to transport components to the assembly station. Wheeled tracks can also be used in warehouses as a part of the overall logistic process. Loading on one side and unloading on the opposite according the FIFO principals (First in first out).
ORDERING
Details of all Dexion products and ancillary items are available through our website to help create your order easily. Existing account holders can create orders and be invoiced at their normal terms. Alternatively you can email, phone or fax your requirements through to be dealt with on a more direct basis.
Can't see what you want? Contact us for help and advice.
NEED REPAIRS?
We carry stocks of Dexion pallet racking and shelving and can carry out repairs as quickly as you need them using genuine Dexion Products. Call us on 0113 270 4872 to arrange an urgent repair and we'll arrange a time that suits you.