Cantilever Racking Installations
Our products for long goods storage are ideal for safe and organised storage of long and heavy loads. They are ideal systems for storing steel bars, pipes, tubes, furniture and packs of timber.
alternatively call
0113 270 4872
Our projects division can plan, manage and install your installation in house using the latest design and CAD systems. We offer a wide variety of racking installations for our customers, and boast an industry leading team of installers who have attained full NVQ and CITB qualifications respectively. All our work is completed to all relevant SEMA guidelines and EN standards leaving you safe in knowledge that your racking is safe and fit for purpose.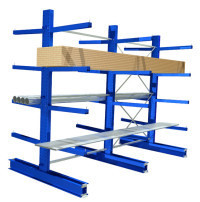 LIGHT DUTY CANTILEVER RACKING
The Light Duty Cantilever is especially designed for light merchandise, but which has great size. Timber, pipes, mouldings or other long goods are safely stored and easy to access.
Light Duty Cantilever is offered as single sided racks to go against a wall or double sided for placement centrally and access front and back.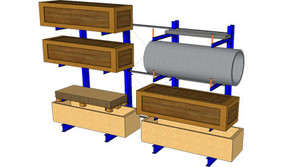 HEAVY DUTY CANTILEVER RACKING
Narrow Aisle pallet racking is the space-saving option if floor space is limited: maximum storage capacity, fast accessability to every pallet and quick order-picking straight from the racking.
ORDERING
Details of all Dexion products and ancillary items are available through our website to help create your order easily. Existing account holders can create orders and be invoiced at their normal terms. Alternatively you can email, phone or fax your requirements through to be dealt with on a more direct basis.
Cannot see what you want? Contact us for help and advice.
NEED REPAIRS?
We carry stocks of Dexion pallet racking and shelving and can carry out repairs as quickly as you need them using genuine Dexion Products. Call us on 0113 270 4872 to arrange an urgent repair and we'll arrange a time that suits you.