MOBILE STORAGE INSTALLATIONS
From a simple hand cranked mobile, through computer controlled hand loaded mobiles to powered pallet storage mobile we provide a full range of options
alternatively call
0113 270 4872
Our projects division can plan, manage and install your installation in house using the latest design and CAD systems. We offer a wide variety of racking installations for our customers, and boast an industry leading team of installers who have attained full NVQ and CITB qualifications respectively. All our work is completed to all relevant SEMA guidelines and EN standards leaving you safe in knowledge that your racking is safe and fit for purpose.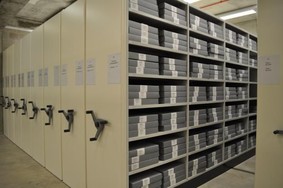 HAND CRANKED MOBILE
Although traditionally linked with archive shelving, mobile shelving can be used in
Museums & galleries
Workshops and production
Libraries and solicitors
Offices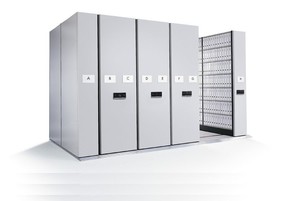 POWERED HAND LOADED MOBILE
Hand cranked mobiles are the most economical, but powered mobile takes access to the next level. No more putting down the files before entering the mobile, simply push the pad with your elbow and the relevant aisle opens up.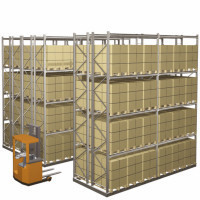 POWERED MOBILE PALLET RACKING
MOVO, the mobile pallet racking solution from Dexion, is the optimal solution for storage, providing dense pallet storage and helping to reduce costs for a new building or the possibility to better utilise existing warehouse storage space more efficiently.
The electronically controlled MOVO heavy duty mobile pallet racking system runs on embedded rails and can carry bay loads of up to 24 tons at racking heights of up to 12 metres, with runs up to 90m possible.
When individual aisles open, state-of-the-art sensor technology and variable control options ensure ease of operation and absolutely safety.
ORDERING
Details of all Dexion products and ancillary items are available through our website to help create your order easily. Existing account holders can create orders and be invoiced at their normal terms. Alternatively you can email, phone or fax your requirements through to be dealt with on a more direct basis.
Cannot see what you want? Contact us for help and advice.
NEED REPAIRS?
We carry stocks of Dexion pallet racking and shelving and can carry out repairs as quickly as you need them using genuine Dexion Products. Call us on 0113 270 4872 to arrange an urgent repair and we'll arrange a time that suits you.