Heavy Duty Cantilever Racking
From a simple single run to a full warehouse installation we can help. We keep standard pallet racking in stock so can get you going quickly.
alternatively call
0113 270 4872
Cantilever racking is available in both single sided and double sided configurations. The double sided rack provides maximum storage capacity on a single central column while the single sided rack is designed to fit flush against a wall.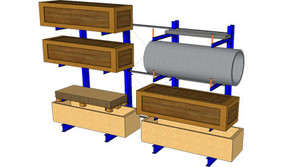 Being modular in nature, additional arms, uprights and braces may be added as storage requirements change.
Advantages:
It is the ideal system for storing long goods
Safe and orderly storage of long or large products
Maximum utilisation of horizontal space
Good for both indoor and outdoor use
The length of the shelf and the distance between the profiles can be adjusted depending on the load
Every system is designed and manufactured according to the client's precise needs
Heights: up to 12 m (depending upon IPE profile)
Arm length: up to 2 m (special solutions can be created for longer lengths)
Columns can be placed at maximum of 2 metres apart. (for longer distances special solutions can be created)
The columns and arms are painted blue RAL 5010 as standard (other colours can be specified)
For outside installations, external paint is available or a hot dip galvanised solution can be provided where a corrosive environment is present.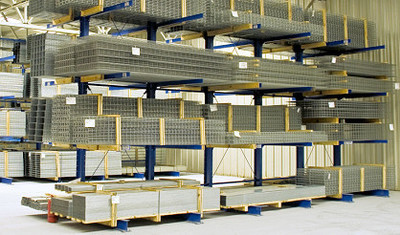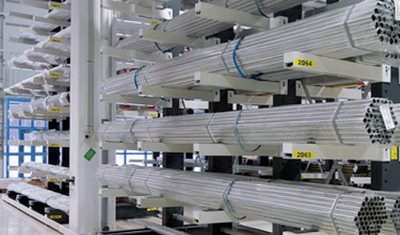 ORDERING
Details of all Dexion products and ancillary items are available through our website to help create your order easily. Existing account holders can create orders and be invoiced at their normal terms. Alternatively you can email, phone or fax your requirements through to be dealt with on a more direct basis.
Cannot see what you want? Contact us for help and advice.
NEED REPAIRS?
We carry stocks of Dexion pallet racking and shelving and can carry out repairs as quickly as you need them using genuine Dexion Products. Call us on 0113 270 4872 to arrange an urgent repair and we'll arrange a time that suits you.