Mezzanine Floor Installations
An quick and economical way to make efficient use of headroom for extra storage, offices or workshops we can design an answer to suit your needs.
alternatively call
0113 270 4872
A mezzanine floor (if not attached to the existing building) can be regarded as an item of plant and written down accordingly. Currently 100% of the cost can be offset against Corporation tax in the first year.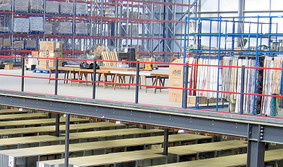 EXTRA FLOOR SPACE
For storage of bulk items the floor can be designed up to 1000kg per m2 utilising chipboard or other specialised surfaces. The surface can be designed to carry the point loads of hand pallet trucks. spans of up to 10m can be achieved depending upon loadings and structural floor conditions.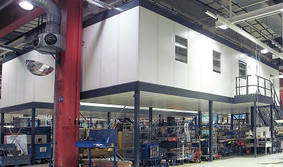 EXTRA OFFICE SPACE
From a single office in the work area to a full office suite, we can install a demountable system to suit your requirements for appearance, sound and demountability.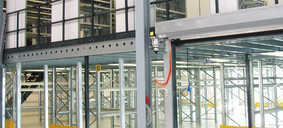 EXTRA SHELVING SPACE
Sometimes it is necessary to have a different shelving layout above from the one below. A mezzanine floor with a reinforced surface and possibly spreaders below the uprights provides this function.
ORDERING
Details of all Dexion products and ancillary items are available through our website to help create your order easily. Existing account holders can create orders and be invoiced at their normal terms. Alternatively you can email, phone or fax your requirements through to be dealt with on a more direct basis.
Cannot see what you want? Contact us for help and advice.
NEED REPAIRS?
We carry stocks of Dexion pallet racking and shelving and can carry out repairs as quickly as you need them using genuine Dexion Products. Call us on 0113 270 4872 to arrange an urgent repair and we'll arrange a time that suits you.